Public transport has been the lifeline for people worldwide for years. Whether it's office travel or commuting to the market, public transport mediums like metros and buses have been the go-to choice for a lot of people. But this relationship is heading to a sad ending as COVID-19 has disrupted the public transport sector.
But bike transportation services have come to the rescue. These services allow you to book a bike taxi just like you book an Uber or Lyft. Besides, they're safer, affordable, and more convenient, making them an excellent alternative to public transport. Let's discuss why bike taxi service apps are becoming the new normal during the COVID-19 pandemic.
The Effect of COVID-19 on Public Transportation
Though almost every sector has suffered a blow due to the COVID-19 pandemic, the effects have been more substantial on public transport. The ridership has plunged, and the future viability of public transport is also in question.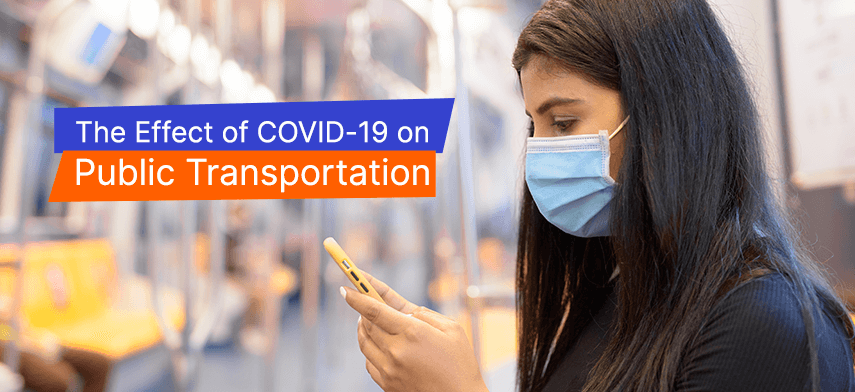 In the US, for example, 2.8 billion fewer Labor Day weekend trips were reported this year than in 2019. This sudden reduction in public transport usage comes out as a result of massive restrictions imposed on public transport by countries across the globe.
The rise of remote work has also impacted the demand for public transport. The Washington Metro has witnessed nearly an 80% drop in travelers. Significant declines were also reported in San Francisco amid the COVID-19 pandemic.
The effects are being seen in Europe, as well. In Berlin, transport lines have been reduced to 10-minute intervals, with less busy lines being temporarily closed. Public transport services in London have also adopted a weekend timetable to reduce transport frequency.
The same changes are visible in Israel, Hong Kong, and other countries. This has also led to a profound economic impact on the public transport industry. In London, the financial implications could cost up to £500 million, predicts the Transport of London. Bay Area Rapid Transit (BART) has also anticipated a loss of $37 million per month due to transport restrictions.
The Rise of Bike Taxi Services
The global taxi market is on the rise, with two-wheeler taxis leading the surge. The taxi market is expected to grow with a CAGR of 9.22% during 2019-2024. The bike taxi sector is set to grow faster, especially in the Asia-Pacific Region. The region accounts for more than 70% of the global two-wheeler market, and the Asia-Pacific two-wheeler taxi market is set to witness a growth of 25% CAGR.
This sudden spike in bike taxi service solutions is not surprising. Though most countries have lifted lockdown restrictions, public transport is still risky. Most people maintain social distancing, which could be challenging for those who rely on public transportation for daily commuting.
Bike taxi app development services have emerged as a solution to this hurdle. Ridesharing is not a new concept, but the demand for two-wheeler taxis on such a large scale has never been seen before.
Bike taxis ensure minimum interaction between the driver and the rider. The touchpoints are also minimal, and the drivers follow strict safety and hygiene protocols. This makes bike taxis considerably safer than public transportation.
Affordability is another benefit of bike taxi management software. Cab services like Uber are costly, and paying for two rides a day may not be feasible for everyone. Bike taxi rides are three-times cheaper than cab rides, making them an affordable option for everyone.
In addition, a bike taxi service also promotes employment on a large scale. We all know how COVID-19 has affected employment across the globe. Since most individuals have a two-wheeler, they can sign-up for bike taxi services as a rider. This leads to massive employment opportunities.
Bike Taxi Apps: How They Work?
You must've booked a cab online, maybe an Uber or Lyft. A Bike taxi app is no different. You can sign-up, share your location, find nearby bikes, and book them for a particular location. While cabs are still outshining bike taxis in the west, the demand for bike taxis is drastically increasing in populated countries like China, India, and Indonesia. In a nutshell, bike taxi apps are on-demand platforms where riders can book bike taxis.
For Passengers:
Now comes the question: how does bike taxi management software work? Here's a quick step by step process:
Request Ride: The passengers sign up for the app, provide their pick-up and drop location, and confirm the booking. A biker nearest to their location is assigned to them.
Enjoy the Ride: The rider comes to the entered pick-up location in the minimum possible time. He picks the passenger and drops them at the drop location. The drivers follow the necessary safety protocols, like sanitization and wearing and mask and helmet.
Pay Online: Once the ride is finished, the passenger can pay the driver either through cash or online through a myriad of accepted payment methods.
Rate and Review: After the ride is finished, the passenger receives a notification requesting to rate their experience. The passengers can then provide ratings for their experience.
For Drivers:
Receive a Request: The driver gets a notification when a passenger is searching for a ride. The driver can either accept or reject the ride. Once he accepts, the passenger gets a confirmation. He receives the passenger details, including the name, phone number, and pick-up and drop location.
Pick the Passenger: The driver sanitizes himself and visits the pick-up location. He gives the passenger a helmet for safety. The driver picks the passenger and drops them at the entered drop location.
Receive the Payment: The driver receives the payment through cash or online payment methods like wallets.
Receive Feedback: The driver receives feedback from the passengers regarding their overall experience.
Key Features of a Bike Taxi App
A bike taxi app has three variants or panels: Customer app, Driver app, and Admin app. All the panels have different features, including:
Customer App:
Easy registration and login
Customer profile dashboard with ride history and stored payments
Seamless booking
Instant confirmation with OTP, SMS, and notification support
Safety features like SOS
Various payment options, like cash, card, wallets, etc.
Help and support
Rating and reviews
Bike Driver App:
Easy registration and login
Online and offline toggle
One-tap booking confirmation and rejection
GPS navigation
Start and end a ride with a single click
Receive and view customer ratings
Track and view earnings and tips
Admin App:
Driver management to monitor all drivers
Customer management to keep track of all customers
Fleet management to administer all vehicles
Why are Bike Taxis a Better Alternative to Public Transport?
Bike transportation service is becoming increasingly popular, and rightly so. They're convenient, affordable, and quick. And with COVID-19 making public transport hazardous, bike taxis have emerged as a lifesaver. Here's why bike taxis are better commuting options than public transport.
1
Ideal for Short Distances
For short distance travels, most people rely on buses, cabs, or shared cabs. Individual cabs are expensive, and buses and shared cabs are dangerous, keeping the COVID-19 pandemic in mind. On-demand bike taxi app development can resolve this hurdle. They're ideal for short distances, as they're private, cost-effective, and convenient.
Bike taxis are also optimum for people who rely on metros and buses for long-distance travel. In most cases, metro and bus stations aren't close to their destination or home. They have to book a cab or use public transport to reach their destination. A bike taxi service can be a perfect alternative for cabs or public transport.
2
Faster than Cars and Buses
The average commute time in the US is 26 minutes. This number is way bigger in countries like India (90 minutes) and (52 minutes). Cabs and buses are bigger in size and are likely to get stuck in traffic. This increases the overall commute time. Two-wheelers are compact and can easily pass through traffic jams. This can reduce the overall commute time by almost half.
3
Reduces Congestion
Traffic jams are a real problem in developing countries, especially in the Asia-Pacific region. Cars and buses occupy more space on the roads, leading to frequent traffic jams in peak hours. Since two-wheelers consume less road space, they reduce congestion and traffic jams.
4
Affordable
Bike taxis are 40-60% less costly than car taxis. Since daily cabs can be expensive for many people, bike taxis have emerged to be an affordable solution. People can book bike taxis multiple times a day without hurting their wallets.
5
Enhanced Safety
Lastly, they're safer than public transport. In bike taxis, the passengers need to come in contact with only the bike driver, who follows proper safety and sanitization protocols. This reduces human contact and alleviates the risk of virus spread.
Wrapping Up
The lack of regulations, absence of women drivers, and safety concerns are some hurdles faced by the bike taxi service sector. But as the use of bike taxis is increasing, new developments can be expected. COVID-19 is here to stay, and public transport will remain to be risky for months and years to come. This will certainly catalyze new advancements in the bike transport management systems market. If you would like to implement a bike taxi solution, then schedule a meeting with our team and expand your taxi business with bike services.
Author's Bio

Nitin Lahoti is the domain expert of Logistics and Transportation. He has 12+ years of experience in Design, Business Development and Startups. His expertise is in Product Ideation, UX/UI design, Startup consulting and mentoring. He prefers business readings and loves traveling.