In today's era, people are seeking for a convenient, effective and sustainable mode of transportation. Many people are preferring private transports such as taxis and cabs or public transport like buses for daily commute which results in spending excessive money and time. Thus, 'Vanpool' is the new mode of transportation which is trending on the list.
A vanpool is similar to carpool comprising of drivers and passengers having the same destinations and origins of commute. Vanpools can accommodate around a minimum of 4 to a maximum of 15 passengers. Thus, participants of vanpool can opt for being drivers and can earn decently through vanpool transportation every month. Vanpools are cost-effective when you commute for around 15 miles or more from the destination. The pricing of vanpool mostly depends on the distance and number of riders traveling. In vanpools, the vehicle is rented by the members of vanpool and consists of the monthly fee that covers liability insurance, maintenance and roadside assistance.
Vanpool Programs
Vanpools are middle-of-the-road transportation mode as compared to transit, they are cost-effective and flexible. While developing the different types of vanpool operation programs, there is a need for competent organization, productive financing and competitive marketing. There are three main types of vanpool programs:
employer-sponsored programs
third-party program
owner-operated programs
In employer-sponsored program, employers have the option of renting or purchasing vehicles. It can recover costs through fares from the passengers, occupies lesser parking space, and enhances the productivity of an employee by reducing commute time and communicating with other co-passengers. Whereas the third-party program consists of a public agency, ridesharing organization, and van leasing companies that lease vans to small employers or commuter groups. The owner-operated program allows individuals to purchase a van and charge passengers for traveling costs. In this program, insurance and maintenance costs are mostly paid by the owners.
Features of Vanpool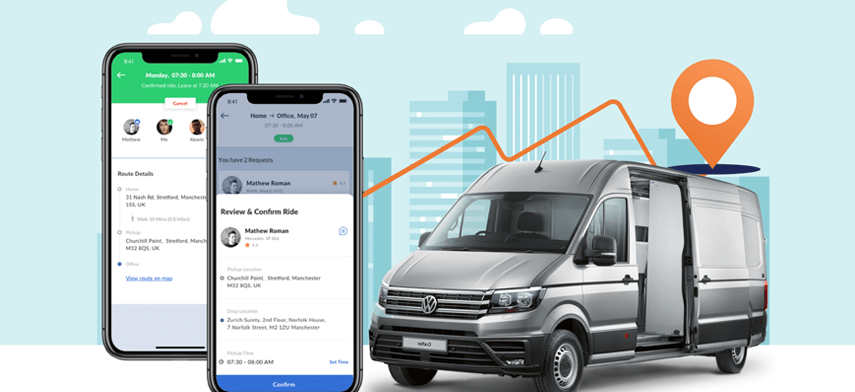 For developing the business, it is necessary to list down the basics. Let's take a look at the features that should be present in a vanpool app for providing the customers with exciting riding experience.
1
Have a Record
Ensure that you have all the relevant contact details of all the members present in your vanpool. During the formation meeting, provider of vanpool will make this information available which includes everyone's email, name and contact number that can be useful in an emergency.
2
Maintain Punctuality
It is very important to plan and make preparations a night before to arrive on time and join the vanpool from the decided location. Many of the vanpools are managed to meet at the shopping center or commuter parking lot at a particular time to depart for the destination.
3
Pay Monthly Share On Time
Being one of the most convenient modes of transit, passengers of vanpool would pay the driver as per the rides. This will give them a pre-tax commuter benefits. It also saves around 40% on commuting costs. Moreover, the drivers receiving the pre-tax dollars benefits from the passengers can use the amount to pay the monthly expenses of the vanpool.
4
Decide Drivers And Backup Drivers
Before forming the vanpool, participants should get help from vanpool providers in deciding driver and backup driver of the vanpool. Or they can even go with the option where every member of the vanpool can drive on a weekly or monthly basis turn by turn.
5
Effective Communication Method
While beginning the use of vanpool transportation, it is necessary to decide the particular mode of communication among the members of the vanpool. In some of the vanpools, members can appoint one individual who would coordinate with each of them through text, email or phone. Vans can also go for the option of Group Chat. With the help of an app, members can also track the schedule of the van and can communicate with each other accordingly. However, it should consist of the features such as calendar, set the status of a rider for the week, send messages to other riders and more.
6
Emergency Backup Plan
Emergencies can occur at any time, you should notify your vanpool regarding the emergency as soon as possible. However, there are various programs in which participants of vanpool are eligible for applying for the free emergency commuter program. In this program, during an emergency, vanpool riders will get around four to five free rides to home every year.
7
Establish Van Rules
For ensuring that every member of the vanpool will get an effective experience, it is essential to set the rules of a van. Without rules, no business of shared mobility services can prosper.
Now it's time to take a look at the advantages of vanpool.
For many people, vanpool transportation is the most affordable, convenient and comprehensive method of commuting than driving alone to work. In fact, people who use vanpool to work from enterprises to public communities are getting various benefits.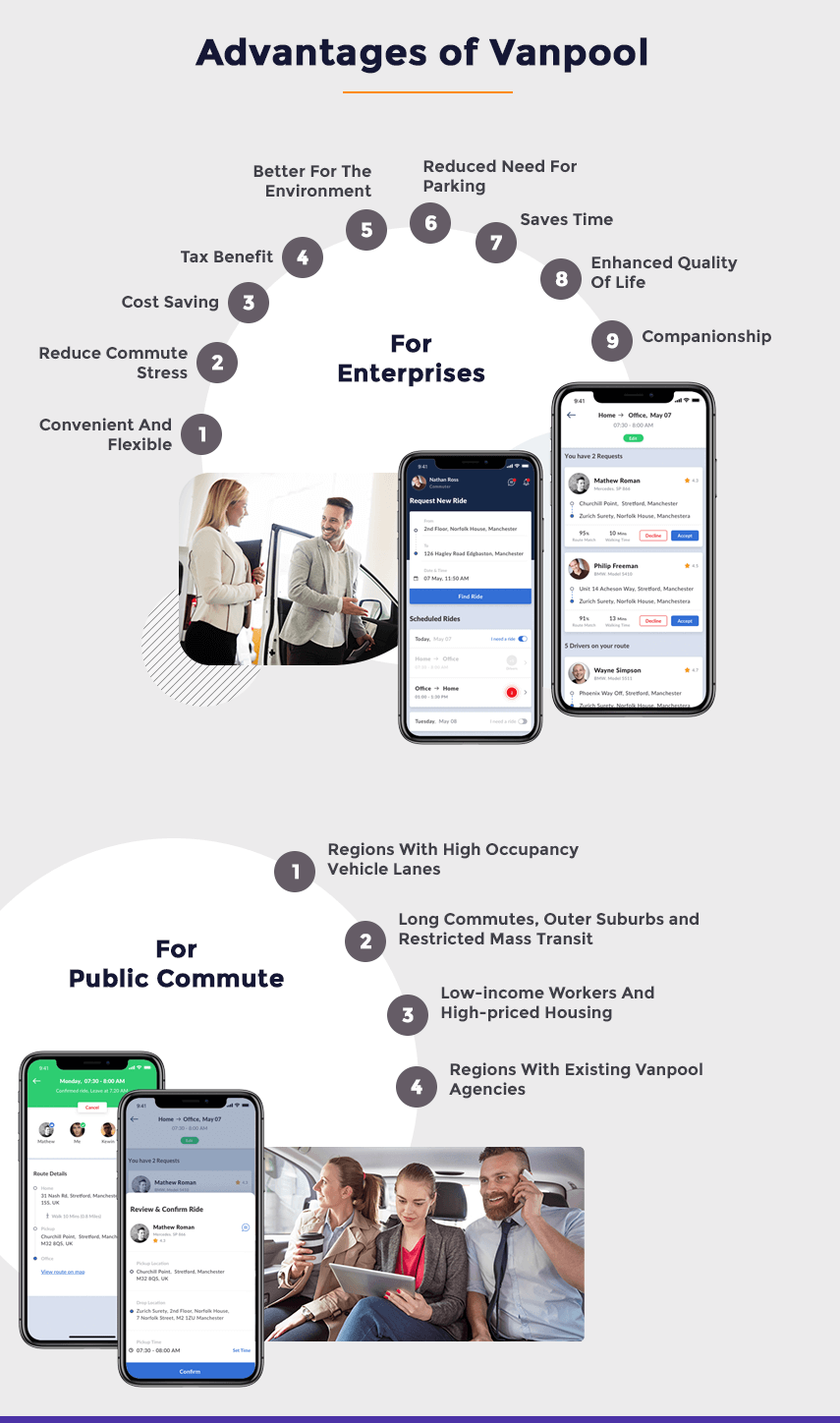 For Enterprises:
A vanpool is beneficial for enterprises in providing vanpool services to commuters who don't have access to conventional services such as buses, heavy rail or light rail. Let's check the advantages:-
Convenient And Flexible -

Unlike the availability of public transports and private commutes, vanpools can be operated at any time from anywhere. Thus, flexibility is improved by the service of getting picked up from the nearby location of the home and drop off at work and vice-versa. Tasks after the work can also be performed by meeting the vanpool at nearby Ride or Park lot.

Reduce Commute Stress -

On considering the greater occupancy, vanpools can get the benefit of HOV (high-occupancy) lanes in metropolitan areas that helps in reducing the time of commute. This helps in benefitting the mental health which reduces stress from the responsibilities of driving. Thus, van poolers can also use the time for enjoying leisure commute which allows them to relax between work and home.

Cost Saving -

Riding in a vanpool will help in saving around 50-70% of the cost of driving own car. However, vanpooling is the least expensive option for commuting. On removing the solo commute to work, van pooler saves money on tires, insurance, maintenance and gas. As cost is associated with parking while driving to work, this helps in reducing or eliminating as many of the employers are providing a special parking lot for vanpools.

Tax Benefit -

Many of the subsidies are existing that are linked with vanpooling and help providing tax benefits. Various employers are offering pre-tax benefits and reduce employee's taxable income.

Better For The Environment -

On joining vanpool, people can get the benefit of commuting conveniently that results in lesser congestion and reduced greenhouse gas. Thus, the average commute of more than 50 round-trip miles in passenger van takes around 14-15 cars off the road and eradicate emission of around 40-50 pounds of pollutants every day in the air.

Reduced Need For Parking -

Decrease in the number of employees commuting to work can help in lessening the demand for employee parking. Specifically, in urban areas, it is very expensive to build or lease a parking space. However, vanpool benefits in providing parking space and avoid the charges of secure additional parking.

Saves Time -

By traveling in an HOV lane, people can shorten their commute time. With the help of the feature of selecting a driver to commute to and from work, passenger will get time to read, work, sleep or relax. Whereas, the employer can even provide the special location of parking for vanpool that helps in saving the time of walking through the parking lot.

Enhanced Quality Of Life -

Van poolers are enjoying a work schedule that allows leisure time, offer personal satisfaction by retaining environment and enhanced quality of life.

Companionship -

Using vanpool, people can get to know about co-workers and neighbors. Several people who are together for years can use vanpool for sharing the commute.
For Public Communities:
Vanpooling is considered as the shared mobility service for people who are residing ten miles away from the workplace. Therefore, vanpooling is beneficial to public communities in the following ways:
Regions With High Occupancy Vehicle Lanes -

Vanpools are beneficial for the people living in areas with high-occupancy vehicle lanes. Thus, it is having the ability to save commuters time and bypasses congestion. On the basis of the length of commute and congestion bypassed, HOV lanes can save around 20 to 30 minutes per way.

Long Commutes, Outer Suburbs and Restricted Mass Transit -

People with long commutes are preferring vanpool transportation for reducing the stress of long-distance commuting. However, people of areas where mass transit is limited are mostly opting for shared mobility solutions instead of driving alone.

Low-income Workers And High-priced Housing -

Vanpools can also be important for low-income workers. Various workers have to commute for an hour or more, whereas they are not getting reliable transportation. Different areas of business can form the task force and decide on offering a good agreement between flexibility and reliability with the vanpool system.

Regions With Existing Vanpool Agencies -

Vanpool is mostly applicable for large employers having a sufficient number of employees forming vanpools. Thus, smaller employees can join together by business association or vanpool agency in developing vanpools.
Conclusion:
Technology is playing a major role in improving the future of shared mobility. Industry of shared mobility is developing and increases in such a fast pace that it is difficult to identify the new innovations happening in shared mobility solutions. In the age of digitization, various shared mobility services are accessible in the city where the effect of options is beginning to influence and learn how cities are structured. Ride-hailing, scooter sharing and car sharing is changing the way people commute and understand how it is reshaping the city and adapt to these changes effectively.
Vanpool transportation is not only the best option to save money, it also helps in reducing the wear and tear of car, lessen the congestion, decrease emissions of carbon, use HOV lanes and provide tax benefits. Thus, van pool transportation is advantageous for individual and society that helps in making the option of transportation feasible for people residing across the city. Vanpool can go a long way in reducing the stress on different transportation networks and provide convenient and cost-effective solutions of shared mobility.
Author's Bio

Nitin Lahoti is the domain expert of Logistics and Transportation. He has 12+ years of experience in Design, Business Development and Startups. His expertise is in Product Ideation, UX/UI design, Startup consulting and mentoring. He prefers business readings and loves traveling.