If you have used your app to book an Uber or Lyft, you already know what a passenger app is. A rider app or passenger app is an interface to book taxis in an on-demand taxi business model. You can find nearby cabs, enter your destination and get connected to the nearest taxi in a matter of seconds using the passenger app. But that's not where its utility ends!
Today, we will explore how a passenger app adds value to your taxi business and why it's an integral part of the taxi app development process.
How a Passenger App takes a Significant Role in Taxi Booking Platform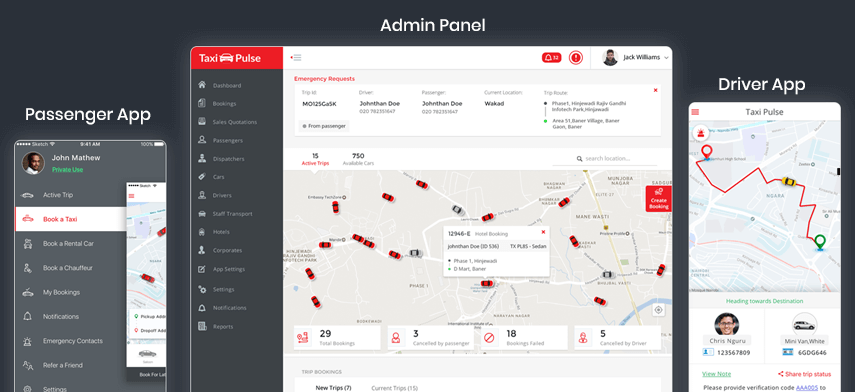 An on-demand taxi business depends on three elements-
A passenger app
A driver app
Admin panel
Out of these, the passenger app is the most important as it enables your commuters to book their rides. If your system didn't have a passenger app, you would need to depend on traditional calling and fleet management, which is not feasible anymore.
In short, a passenger app empowers your riders with an interface to book and manage their rides. The app also includes helpful features like fare calculator, ETA and more to create an unmatched riding experience for your passengers.
In the next section, we will discuss the important features of a passenger app.
Essential Features of Passenger App
We know it can get overwhelming, a reason you need to list down the basics. Let's take a look at some of the features that you need in your passenger app to provide your customers with pleasant riding experience.
1
Easy Onboarding
The passenger app should provide a simple registration process for your passengers. Users will be able to book their rides after providing some basic information and confirming their phone numbers. You can also provide other ways of registration, like using Facebook and Google accounts to sign up.
It's best to research your customer base and then decide how you want your onboarding to be.
2
Inbuilt Chat
You may choose to include a chat feature during your taxi app development. Your riders will be able to use the chat to communicate with the drivers and customer representatives. A taxi app development company can customize the solution to help your passengers connect with the required parties as per your needs.
3
Scheduled Rides
Your customers may want to book rides in advance ahead of their travels. Many people like to book a cab the night before their flight or train to take them to the airport or station. You should have a 'schedule rides' feature to help passengers book rides for selected times and dates. This also ensures availability and translates to comfort and convenience for your riders.
4
Notification Alert
You will need to notify your passengers on various accounts during a typical ride. The ETA, waiting time and other details are often sent via push notifications to alert your riders. Taxi app development solutions also let you notify your customers through email and SMS.
5
Fare Estimates and Seamless Payments
Fare estimates allow your riders to have an expectation of the possible fare even before the ride begins. Passengers can provide their destinations to get an estimated fare based on their location.
Your passenger app should also have methods for cashless payments like debit/credit cards, net banking, online wallets and so on. This saves your passengers the trouble to look for cash and changes once the ride ends.
6
Saved Locations
Once your taxi business starts off, you can expect many of your commuters to be regular passengers. That means they hire your cabs to travel from home to work, college to home, home to market and other daily routes.
Giving your riders the ability to save their destinations and pick-up locations saves a lot of time spent searching every booking.
7
Tracking Driver Location
This feature helps your passengers track the real-time location of the driver on the map. They can see exactly how far the driver is from the pick-up location. The tracking is enabled over a GPS map like Google Maps for extra convenience.
8
Trip History
Just like your call list, the trip history in the passenger app provides all relevant information about past trips. Riders can access the trip history to locate particular trips and information like driver name, fare and other details.
This feature is crucial not just for customer convenience but also to provide support on matters like lost item and fare disputes.
9
Prime Membership
Just like Amazon, you can have your own prime membership program for passengers. You can offer discounts, free rides and other incentives to encourage riders to sign up and become loyal customers.
You can include any type of deals and promotions- just ask your taxi application development company for customizations.
10
Outstation Module
If you have inter-city permits, you can offer an outstation module in your passenger app. Riders will be able to book outstation intercity rides at flat rates based on distance or time. The feature lets you earn some extra income while drivers can also pocket their part of the profit.
11
Day Packages
Day packages allow you to offer car rental-sort-of services from the rider app. Passengers can hire cars with personal chauffeurs for a whole day. You can create your own day packages with permissible distance and time as per your business model.
12
Feedback and Rating
Driver feedback and rating help you gauge your fleet's performance. You can identify the top drivers and those who are not up to the mark. Then you can take steps accordingly to improve the performance of those falling behind.
Without feedback, no business can prosper- even if it is a cab-hailing service.
Now it's time to explore the advantages of using a passenger app.
Benefits of Passenger App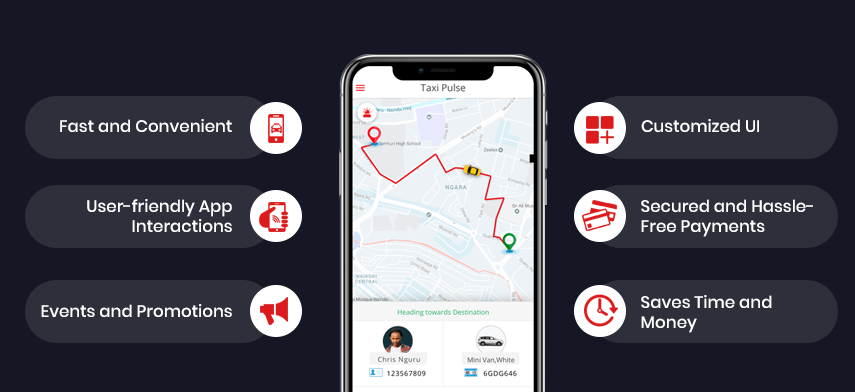 Fast and Convenient:

Passengers nowadays don't even want to call and book a cab- they want it instantly. The on-demand taxi industry has grown on the foundation of the convenience and pace offered by passenger apps. Now you can open your app, make a few swipes and taps and have a cab headed your way.

Without a passenger app, you can never expect to sustain your business in today's fast-paced world, let alone the idea of earning profits!

User-friendly App Interactions:

You can add as many and as different features you want in your passenger app. Just decide what you want so that you can include the features during your taxi app development.

Using the app, you can foster user-friendly interactions and features like adding a stop, fare calculator and more.

Events and Promotions:

You can notify and manage various events and promotions using your passenger app. Using push notifications, you can alert your customers about new discount codes or a ride pass that gives them a flat rate based on distance.

The promotions and deals keep your customers engaged and also turn them into loyal customers. Your passenger app is one of the best and free marketing and PR tool, so don't be shy to use it to the fullest!

Customized UI:

How easy is the UI that you want people to use? The user experience is all that counts, and it's what going to help you leverage ahead of your competition.

You can create any type of experience and interaction you want using your passenger app. Your taxi application development partner will create a customized UI only for you to exploit every opportunity you have got.

It's best to sit down and plan what you want in your passenger app before you start developing.

Secured and Hassle-Free Payments:

Passengers app provides estimated fare for the convenience of both the driver and passenger. In-app payment options also let your customers enjoy cashless methods of payment that are also more secure.

So instead of wasting time fishing your pockets for cash, you can choose a hassle-free online payment method and walk off after the ride ends. Think of debit cards, credit cards, online wallets and so on.

Saves Time and Money:

A passenger app helps your customers manage their rides efficiently. They can quickly call a cab without making any calls and save precious time. The app also handles all interactions and saves messaging or calling costs.

You can also save your time and money by using a passenger app. There's no need to spend on calling or SMS as you can use push notifications to alert the passengers. You can also make your workflow streamlined, which, in turn, saves costs and effort.

Less Stress for Passengers and Drivers:

Without a passenger app, you will be lost and incapable of running an on-demand taxi business. A passenger app also empowers your customers and lets them book a ride when needed. Driver apps are also synced with passenger apps so that they can locate the pick-up point, communicate with the passenger and so on.

As a result, the passenger app reduces stress for both your riders and drivers, creating a seamless process.
Final Thoughts
If you are looking to enter the taxi business, getting an app for your own is what's going to help. Are you ready to take on the challenge? You do need some smart decisions - like the right tools to help you out.
A passenger app helps you create an efficient taxi booking platform. Your passengers are happy, your drivers have less stress and you can manage your operations efficiently. So always consider creating a feature-rich passenger app to engage and provide your customers with the best experience. It can also be a great way to beat the competition and stand out from the rest.
Author's Bio

Nitin Lahoti is the domain expert of Logistics and Transportation. He has 12+ years of experience in Design, Business Development and Startups. His expertise is in Product Ideation, UX/UI design, Startup consulting and mentoring. He prefers business readings and loves traveling.