While you know how great Uber and Lyft can be as a business, have you thought about investing in a similar taxi app of your own? With new niche markets waiting to be explored, the potential is tremendous.
Users today depend on smartphones to call rides right from the comfort of their home. However, with Uber's arrival, small competitors are biting the dust.
Why Do You Need a Taxi App?
Most taxi fleets in different countries have already adopted taxi booking apps to remain in business and survive the competition.
This has caused trouble to the independent taxi operators and small cab companies who cannot afford to launch their own taxi app development. It is a costly proposition and not all taxi operators have the capital or budget to develop an app from scratch.
Also, it can be a time taking process which involves months of brainstorming, designing, deciding on the features and comprehensive testing to make sure everything is alright. What should the taxi operators do in such a scenario?
The answer lies in white label taxi app development!
What are White Label Mobile Apps?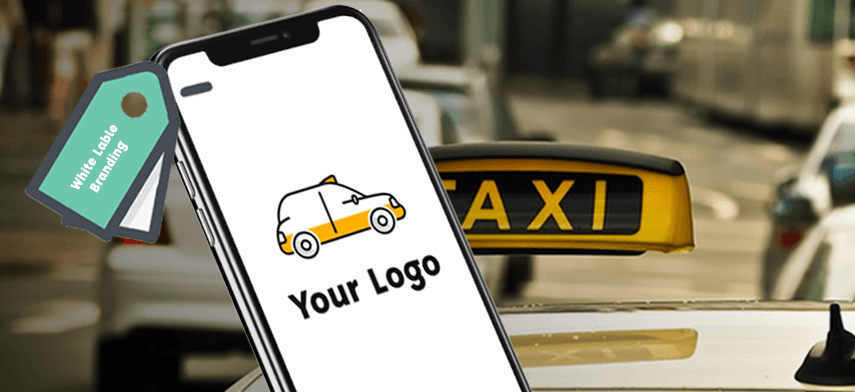 To put it in simple words, white label apps are readymade solutions sold by app development companies. Other companies then can purchase or subscribe to the solution and sell it as their own.
In case of taxi industry, many companies sell white label or customized taxi booking apps which have already been tested as viable products and used by others in the market. The taxi operator can put in their own branding like logos, taglines and also personalize any aspect they want.
The white label taxi app will have some of the basic features prebuilt for ease and functionality. The taxi operators can then go for all the customizations they want to meet the specific needs of their business and fleet.
Ways to Develop White Label Taxi Apps
Generally there are two ways to create white label mobile apps-
The backend code is reused for all customers while the frontend is customized to give the app a complete new look and feel.
The developers can also go for a multi-tenant app which features the same app instance for all cases. But each customer can add a set of different features for greater experience and customization.
Generally, the SaaS (software-as-a-service) model uses this approach though it can be a bit complex to develop and maintain.
Now let us head over to the benefits of white label taxi app development.
Advantages of White Label Taxi App
How you use your white label taxi application can make a good difference. Here are a few ways you stand to benefit.
1
Lower Upfront Cost
When you are developing an app from scratch, you have to invest in research, designing, development and testing. That means hiring app developers, designers and business analysts who make your app possible.
There is no such cost in the case of white label mobile apps. You generally have to pay a one-time setup fee and monthly subscription if you are going the SaaS way.
2
Quick to Market
Developing your own app requires time. You have to wait for at least a few months before you can get to see your app in reality.
However, in the case of white label taxi app development you are already using a tested and tried product that is readily available. You just run your customizations and launch your taxi booking app in a few days!
You can exploit this benefit to the maximum if you are in a regional market where no cab services use an app. The white label app will act as a turnkey solution and you will be able to roll out your service to get the maximum number of customers.
3
Increased Brand Visibility
Nobody waits at the roadside for long to hail taxis these days! Everybody knows about Uber and Lyft and uses their smartphone to book cabs conveniently.
If you are not using a taxi booking app, you are hugely missing out on customers. Even tourists search on Google for taxi services and go for the ones that have online or app booking method. You can increase your brand visibility by hundreds and thousands of times just by introducing a white label app for your taxi fleet.
4
Higher Revenues
We have already discussed how a taxi booking app helps you get more customers which in turn mean more money. But you can also cut costs and increase your profitability in other ways by adopting a cab booking app.
For instance, many taxi fleets depend on third-party services for getting their bookings. This also applies for car rentals that operate with the grace of travel agents and other transport companies. By implementing your own booking app development you will be able to eliminate all third party agencies and their heavy commissions- the whole profit goes to you and your company!
5
Better Return on Investment
When you are developing your own app, you cannot be sure of its viability and how things will turn out. But with white label mobile apps, the product is already running successfully in the market.
You know that it will work perfectly and give you an expected Return on Investment.
6
No Maintenance Hassles
Most of the companies who provide white label apps also offer maintenance service for a monthly fee or as a part of the package. But if you were handling your own things you have to hire a system administrator to make sure things are running smooth.
Using a white label service you don't need to worry about maintenance or troubleshooting- for a small fee you can rest all your worries and expense!
Key Features of White Label Taxi Booking App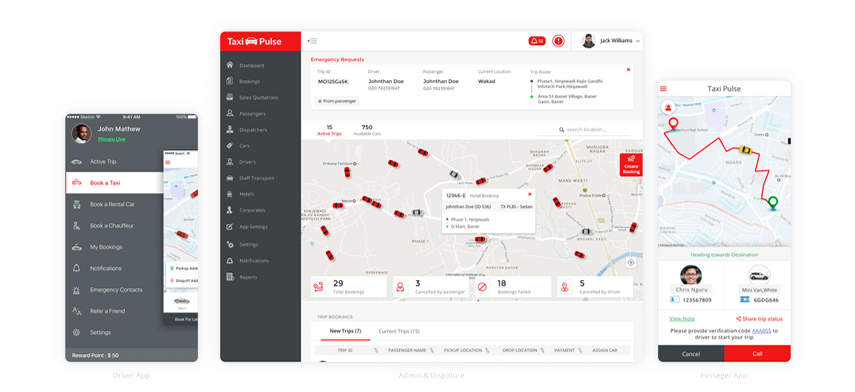 The white label taxi booking solution comes in three versions- the passenger app, the driver app and the admin panel. We will take the example of Taxi Pulse, a white label taxi app solution which is running successfully in over 15 countries.
1
Passenger App
The passenger can download the app and register with their mobile number. They can easily book a cab by choosing their pickup location and destination. A GPS enabled interactive app gives them the real-time location of cabs. The app also presents an estimated total fare based on the distance and time.
Passengers will get real-time alerts on their mobile with details of the driver, vehicle number, driver rating and contact details. They can also call the driver using the call feature within the app. The white label taxi app includes easy payment options by debit or credit cards and can be linked with different mobile wallets.
The passengers can rate the drivers and access their entire trip history. You also have a specific section for contacting the customer service through the app.
2
Driver App
Drivers can download the app and register in a few easy steps. They can also update documents such as driving license through the app.
Real-time notifications are sent to the drivers when a ride request arrives. They can choose or reject the request within a predefined time frame before the request passes to the next driver nearby. The app also allows drivers to call the passenger.
Drivers can locate their pickup destination on a GPS map and also find the shortest or fastest route automatically. They are also notified of the estimated time to reach the pickup point.
The app allows drivers to appear online and offline with a single tap. The fare is displayed on both passenger and the driver app after the trip is completed. Drivers can also rate passengers through their app.
Like passengers, drivers are able to access their trip history. Additionally, they have a complete history of their earnings.
3
Admin Panel
The cloud-based admin panel gives you complete control over your fleet with real-time tracking and intelligent dispatch. The admin can access a plethora of reporting analytics such as total earning, driver log, payment report and so on. The analytics are presented in visual elements so that you can get a quick yet comprehensible overview of your business.
The admin is able to manage the dispatcher and modify the driver responsibilities. They also have access to passenger details and can add, delete or modify the details. The same function is also available for drivers- you can verify driver and vehicle documents, delete accounts, add drivers and vehicles and so on.
White Label Cab Booking App Business Model
White label mobile apps don't need a huge initial cost you have to cough up in case of developing from scratch. The SaaS business models come with two types of charges-
A one-time implementation or setup fee
A fixed monthly charge
The monthly payment is decided based on the number of drivers registered with the service or the total number of trips in a day. You can scale both the number of rides and drivers as your business starts to grow.
For example, Taxi Pulse is equipped with state of the art technology to support 50,000 trips in a single day and you can scale as you go. You have to pay a one-time setup fee of $3,000 and S10 per month for each driver registered with the system.
There is no need to pay for any additional fees- all technical and maintenance support is provided free of cost with 24/7 dedicated account manager.
White Label Taxi App Development for Business Success
If you want to quickly see your taxi business grow and earn huge profits, white label mobile app can be the right solution. You are saved by upfront costs and can quickly market your service to take advantage of the competition. Your business will be able to offer the same kind of rich experiences like Uber and greater customer satisfaction at minimal costs only!
Author's Bio

Nitin Lahoti is the domain expert of Logistics and Transportation. He has 12+ years of experience in Design, Business Development and Startups. His expertise is in Product Ideation, UX/UI design, Startup consulting and mentoring. He prefers business readings and loves traveling.