The global taxi business mirrors the economic situation of nations in many ways. The rising income levels, improved road infrastructure, and better cab dispatch technology correlate directly to a jump in revenues from the taxi transportation business. Goldman Sachs estimates the worldwide taxi market to be worth $108 billion, out of which $36 billion is from the ride-hailing businesses like Uber and Lyft. They expect the revenues from taxi hailing business to swell to $285 billion in a matter of just 12 years by 2030.
Out of the different forms of transportation, taxis have witnessed the biggest growth in customers compared to other forms like buses, trains, and tubes.
What Tech Changes Have the Taxi Industry Witnessed in the past Few Years?
Earlier taxi was a matter of just standing by the side of the road and hailing a cab that was passing by on the road. Then came the concept of calling the cab company and arranging for a cab. With a payphone, a cab dispatcher used to send out the nearest cab driver.
However, in recent years, app-based ride-hailing companies have sprung up. What's more, they have shown tremendous success rates in recent years. No wonder that the market for taxi dispatch software is booming. Reports say that the industry is valued at $199 million (2017) and is expected to reach $722.5 million by the end of 2025. This translates to a CAGR of 17.5% between 2017 and 2025.
The image below shows the percentage of people using a mobile app for their transportation needs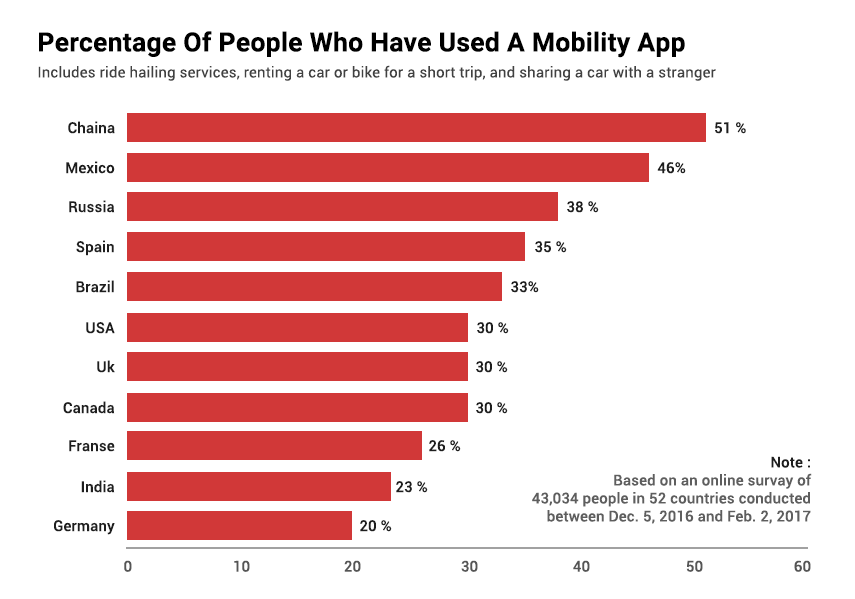 With ongoing technological innovation and more players coming into the market, the share of business generated by taxi booking apps is bound to increase in coming years. Additionally, better bandwidth and growing number of smartphones are expected to drive up demand from the customer/passenger point of view. Together, they highlight that the right time to get into the taxi app business is now.
In sync with these thoughts are some global trends that further validate the business potential of a taxi business. Interested to see what these trends are and how they will drive the taxi industry landscape to the next level of growth in the next few years? Then read on and be informed.
Taxi Industry Trends in 2018 and the Coming Year
1
The Power of Millennials
They are increasingly dominating the landscape of the transport industry in general and the taxi business in particular. And one common characteristic binds all the Millennials – the need for instant information along with the accessibility of the internet all around them.
What does this mean for the taxi business? Local operators who are still following the old way might be sidelined. Since everyone will be booking through a smartphone, their ride will be ready for them by the time they step out of their home or workplace. As a result, cab drivers who aren't integrating technology into their operations will face considerable idle time and loss of revenues.
With more and more drivers reporting a profitable tie-up with taxi booking apps like Uber and Ola, perhaps embracing technology remains the only viable way for taxi drivers to thrive.
2
Air Taxis
One of the more interesting taxi trends in 2018 is the rise of air taxis or flying cars. R&D labs and scientists have put in enormous hours to bring this vision to a reality. This year we see some of the work bear fruition. Cab services like Uber are testing drone based personal transportation services. These unmanned vehicles can help in transportation of goods and heralds a positive step in the transportation of people.
Two examples from Dubai and Bangalore, India are already showing promise in terms of flying passengers in the air taxi transportation model.
3
Water Taxis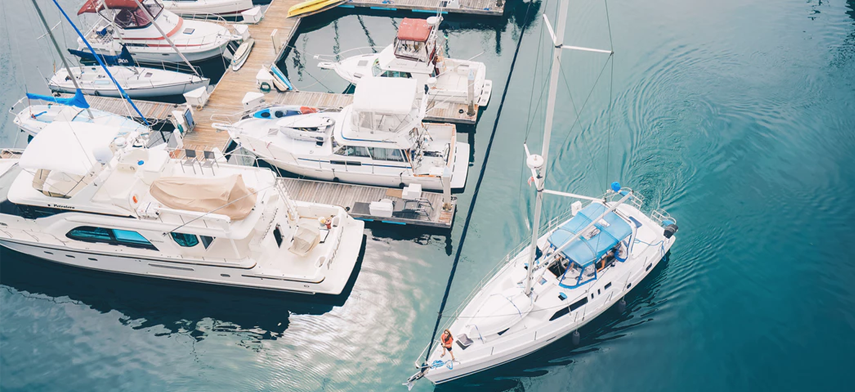 When we have flying taxis, why not water taxis too? Yes, this again is a trending theme in the taxi industry business. With many sightseeing opportunities across riverfronts, scenic tours, or snorkeling, the reasons are many for a customer to pick a water taxi.
No wonder Global Market Insights, Inc. predicts the global water taxi market to be worth $500 billion by 2024. While the number looks fairly aggressive to meet, considering the lack of infrastructure or in-depth studies on adoption, it nevertheless is a trend that is set to define the taxi industry vertical in 2018 and beyond.
4
Self Driving Cars
The year 2017 saw a lot of energetic activity on this front. Many large organizations like Google are actively participating to roll out the world's first fully autonomous self-driving vehicle as early as possible. The testing phase did show a lot of promise, it also brought to light some big problems. These issues need to be resolved before it can be made available to the masses. Once these cars come out on the road, it won't be long before taxi businesses will look to augment their top lines by opting for self-driving taxis. Though the road ahead is long, the journey has definitely begun for self-driving cars.
Conclusion
It is clear that the technology integration within the operational infrastructure will play a vital role in the sector's success. Hence, it makes sense to place emphasis on technology frontier right from the ideation and strategy building mode. For this, you need to opt for the reliable and in-depth experience of tech experts that can deliver white label taxi app solutions.
One such white label taxi app and dispatch software – Taxi Pulse is built exclusively for your business needs. The solution drives a host of benefits like a user-friendly interface for dispatcher, passenger, and driver. It also allows deep customization potential to reflect your branding. With this well-equipped solution, you find it easy to streamline your fleet operations and add momentum to revenue generation capabilities in your business.
Author's Bio

Nitin Lahoti is the domain expert of Logistics and Transportation. He has 12+ years of experience in Design, Business Development and Startups. His expertise is in Product Ideation, UX/UI design, Startup consulting and mentoring. He prefers business readings and loves traveling.