With the introduction of fast-evolving technologies and wide usage of smartphones, digital and mobile wallets are gradually becoming the new mode of tap-and-go consumerism, making the payment system convenient, swift, fast and secure. Ranging from buying grocery to booking movie tickets and from paying utility bills to booking a cab, everything has now become more seamless than ever with the use of digital wallets. Especially to stand ahead of the curve and retain customers, nowadays many cab service providers use mobile wallets in taxi apps where customers can pre-load money and use that to pay for the service while traveling. Undoubtedly, the addition of wallet option to taxi apps has brought a great sense of relief to both the customers and drivers. They can quickly settle payments without the hassle of tendering exact change. There is certainly a wide range of benefits one can have from the integration of mobile wallets in a taxi booking app. But before diving into that discussion, let's have a look at how the digital and mobile wallet system has evolved. This will give you a profound idea about why wallet system alone is replacing the traditional payment methods.
The Evolution of Digital and Mobile Wallets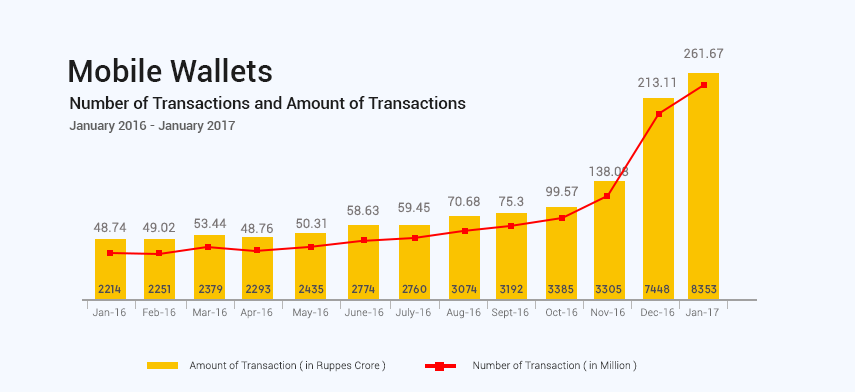 As the e-commerce industry is rapidly growing, an increasing number of app publishers have started integrating mobile wallets in their existing apps to facilitate seamless payments. A research says, depending upon the ecosystem, wallet providers can generate revenue by taking a commission on sales made through the wallet. "With the growth rate of mobile and online commerce, the plethora of smartphones, and the variety of approaches being taken to deliver a digital wallet, it's clear that the space is going to grow rapidly in virtually every corner of the globe". According to a report, post-2016 demonetization, mobile wallet companies witnessed a huge growth in business. The total transaction with mobile wallets touched Rs. 8353 crore approximately in 2017.
The evolutionary path for digital and mobile wallets has immense possibilities of growth and profit in the near future. Together with widespread internet access, increased bandwidth and the smart devices that can capitalize on that bandwidth to proffer new customer experience, the possibility of improvement in wallet development and customer engagement increases. By using hybrid tools, digital wallets and mobile wallets have merged together and this trend is well taken especially by taxi booking apps. Mobile wallets and taxi-hailing apps are aligned with each other and make the payment settlement process hassle-free for both the ride operators and users.
Now that you have already been aware of how digital wallet works and its rapid growth in today's world, let's discuss why you should choose mobile e-wallet for a taxi-hailing app. It offers abundant benefits once it's integrated into an app. Here are some of the benefits:
Benefits of Mobile Wallets
Minimization in Paper Work and Automation in Billing

Gone are the days when people used to carry a lot of cash while taking a ride in a taxi for either daily commute or traveling somewhere. Moreover, if it is a work travel, then they had to collect a bunch of taxi receipts for reimbursements. Now an integrated wallet system in a taxi booking app ensures that they don't have to either carry any cash or collect any kind of receipt, thanks to the automated billing facility in an e-wallet system. The exact fare can be deducted from the passenger app. For drivers, this integrated wallet system in driver app helps them process payment in an organized way. They can withdraw the money from wallet to bank account as needed. In short, the wallet system makes the billing process so convenient that everybody including promoter, driver, and passenger gets to benefit from it.

Effective Promotion Activity

You can drive more customers by giving lucrative offers and deals like cashback, discounts etc. through e-wallets. Such kind of promotions encourage people to choose a wallet system over cash while paying the taxi fare and thus save time. By promoting wallet-only offers and discounts, you can ensure your passengers to use your taxi service and mobile wallet. In short, wallet promotions define a solution where everyone gets benefits.

No Disputes With Drivers

Mobile wallet system makes the payment transfer process in a taxi booking app really easy and quick. Thus there is no chance of delay in payment transfer and dispute between drivers and passengers.

Peer To Peer Money Transfer Facility

With a wallet system, your drivers and customers can share wallet balance with their friends and family. But this is possible only when their friends and family are registered with the same wallet service. Also, they can invite new people to join the app and share the wallet. This way you get more customers without making any extra investment for the marketing of your app.

In a nutshell, a taxi booking app with robust wallet integration can help you meet the requirements of both your drivers and customers effortlessly. Eventually, you become a reliable brand and gain great profit.

To get maximum ROI from your taxi booking app, you need to keep a few factors in mind while integrating a mobile wallet system to it.
Major factors to Focus on While Developing Mobile Wallet App Solution
Do Thorough Market Research

After understanding the market trends and customer expectation through market research you can integrate functions and features to your wallet system accordingly.

Ensure Security

Make your users rely on your app by integrating a secure digital wallet system. As the e-wallets need customers to insert their credit or debit card details or enter passwords, it's your main responsibility to ensure their data security by utilizing advanced technology and methods that are difficult to decrypt.

Include Digital Receipt

Make sure every user gets payment confirmation via email or message in the form of a digital receipt after every transaction performed.

Understand Your Customers

Understand your users and promote wallet offers that match their likings. Give different leverages to your users through the wallet system in your app.

Share Timely Notification

Share timely notifications with your customers regarding the latest wallet offers, discounts, and rewards to keep them engaged in your application.

Opt for a Renowned Development Partner

Before finalizing the app development partner who can integrate a digital wallet system into your app, thoroughly study the profiles of leading companies, and check if they have done similar projects in past. Learning these will help you come with a better digital payment solution.
Wrapping it up, integrating mobile wallet in taxi apps is no longer just a trend, it has become a need of the time. Mobile wallet system makes a taxi app an end-to-end taxi booking solution. Taxi Pulse is such a complete taxi booking app that stays competitive, enhances the booking experience, and attracts new customers with its integrated wallet payment gateway system. So, if you are looking for a feature-packed taxi driver app solution that brings efficiency, automation, and scale to the operation with integrated digital wallet system, opt for this robust taxi dispatch software.
Author's Bio

Nitin Lahoti is the domain expert of Logistics and Transportation. He has 12+ years of experience in Design, Business Development and Startups. His expertise is in Product Ideation, UX/UI design, Startup consulting and mentoring. He prefers business readings and loves traveling.