The key to the success of a taxi business is promoting it in its local market. And in taxi business promotion, to stay competitive you must have a comprehensive taxi dispatch app. Creating a taxi dispatch app can drastically increase the customer base by making the process of taxi booking, tracking the car's movement and paying for the ride just a few taps away.
But, is having an app-based system for your taxi business enough to ensure success? Well, it's not. To grow your customer base, you must market the taxi booking app properly. And to do this you need a solid marketing strategy. Implementing a solid marketing plan can help you acquire and retain both your customers and drivers.
In this post, you will get to know about how to market your app for taxi and make it popular among your drivers and customers. But before diving into that discussion, let's talk about other important things to do before launching your taxi app.
Things to Consider Before Launching a Taxi Booking App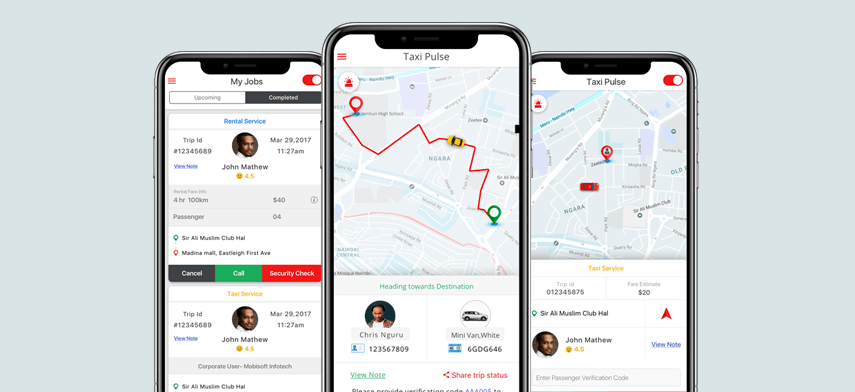 Do market research properly. Analyze your local market situation and understand the pain points of your target audience. Only then you can develop your app such a way that can address those pain points and bring solutions.
Conducting competitor analysis is important. Think about what in your taxi app would help it stand out amongst your competitors.
For a taxi business, it's important to build trust among your users. Hence, your app should be easy-to-use. Moreover, the transparency in various features of a taxi booking app like the information sharing, tracking and making payment, creates trust among the users and helps in increasing the customer base.
Not every car is suitable for being a taxi, so it is better to make sure in advance that you have the right cars. Have the cars that can be modified for this type of service and are safe. Opt for ones with tidy interiors and space for luggage.
Don't forget to have all the documents regarding license and insurance in order before launching your app and offering taxi service through it. Make sure all of your cabs are registered and with all the inspections done so that they are safe to use. Furthermore, you should check the insurance rates and get the most convenient one for your business.
Create a media list. Reach out to social influencers, leading publications, bloggers etc., who might be interested in writing about your upcoming taxi app. Connect with them and discuss a promotion strategy.
Your PR efforts at the pre-launch stage can help you in long run. Journalists and bloggers will appreciate the chance to look at your app before launching. If you are too busy to take out time for doing pre-launch PR, just create a list of websites for submitting your app related posts and this will make the process of promotion easier when launch time rolls around.
Market Your Taxi App Like a Pro
When it comes to marketing your taxi app, you need to make it visible among your drivers as well as customers.
Let's talk about a few marketing steps through which you can reach out to the drivers.
1
Harness the Benefits of Social Media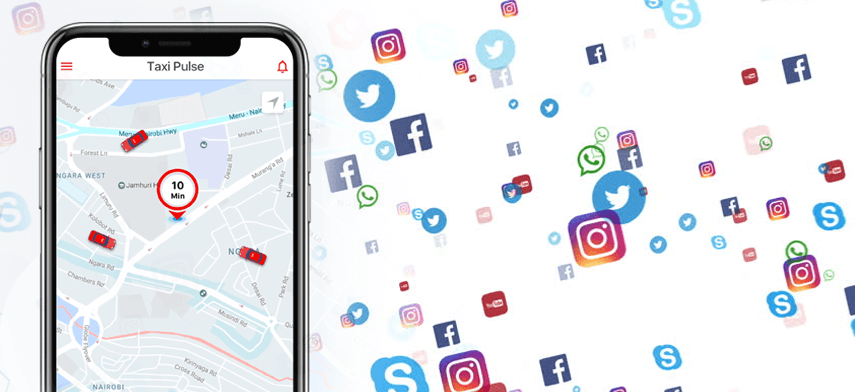 To reach out to drivers you must be aware of the social media channels they usually are active on. Promote your app vigorously across those channels and communicate with your potential drivers.
2
Make the Most of Local Media Publicity
Getting local media publicity can help you create a buzz among the potential drivers. Promote your app across television, radio, and newspapers. Share the story of how your app has something different than what all the drivers have had before. You can also pitch your app before launching to various app review websites.
3
Have Easy-to-use & Separate App Interface for the Drivers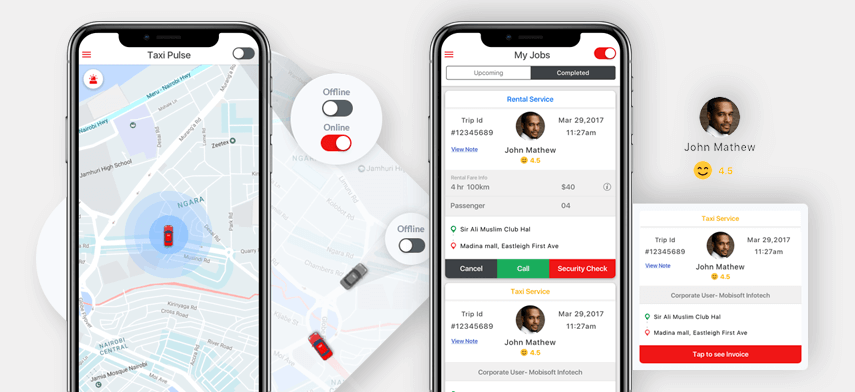 Your drivers need a simple and easy-to-use user interface so that they can manage their options quickly as needed and stay in touch with their customers in real time. Thus, pay attention to all these details while developing your app.
4
Keep a Separate Payment Integration Feature for Drivers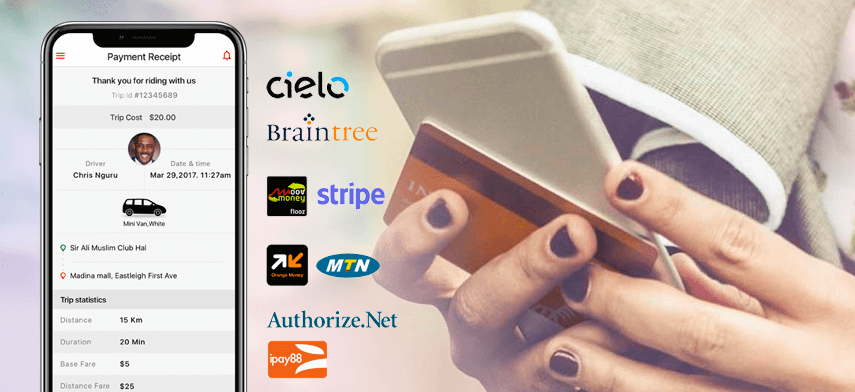 Having a payment feature for drivers to calculate their share and collect the money is really essential for your taxi app. If you make the in-app payment integration feature easy-to-use, more drivers will take interest in using your app.
Opt for Geo-Location Technology in the App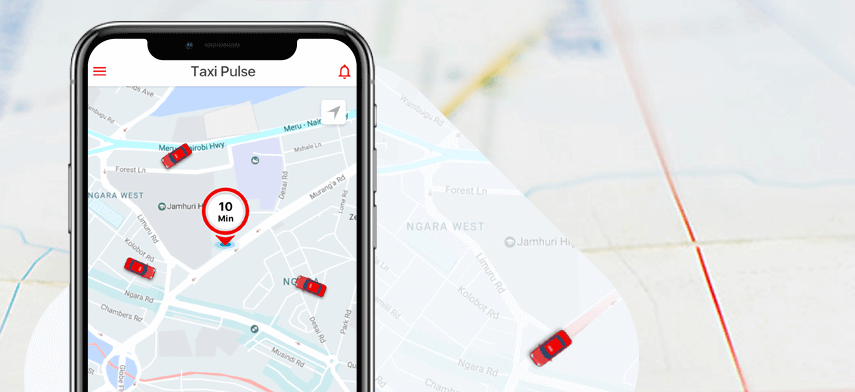 Geo-location is really important for a taxi booking app. Together with GPS facility and Google maps the geo-location technology helps drivers find the fastest route and save time.
Here are a few tips that can help you reach out to customers and increase your app user base:
1
Implement Offline Promotional Tactics
Think about the places where people usually need taxis. Create promotional flyers and distribute them across all those places. Add discounts and promo codes on the flyers to attract more customers. You can also market your app through popular magazines, newspapers and local radio stations.
2
Promote the App Online
Choose referral advertising, social media marketing, sponsored advertising, deal sites advertising and business listing to talk about your app and draw the attention of your target audience online.
3
Keep GPS, Maps & Push Notification Features in Your App
GPS and maps in taxi booking apps ensure the customers about the routes their drivers are following. Push notification feature is another important tool that makes a taxi app useful for the riders. It provides necessary information about the ride once the passenger books a cab. Also, through this feature, you can send messages to the customers mentioning offers and discounts.
4
Have a Secure & Easy-to-use Payment Integration Feature Separately for the Customers
Easy-to-use and secure payment option in a taxi app builds trust among the customers and they tend to use the same app whenever there's a need of booking a taxi. Moreover, automated fare calculation should be included in your taxi app to help the passengers get the right fare for the distance traveled and multiple payment options to ease the payment process and facilitate cashless ride.
In a nutshell, the key to a successful taxi app is how it differentiates from its competitors in the industry. Making your taxi booking app unique by including unique features, useful for both the drivers and the passengers, can surely help you ensure long-term success for your taxi business.
Now let's come to another important stage of your taxi app marketing. Plan a budget strategy for the entire marketing process. Without it, you cannot successfully promote your app. Here's how to estimate budget for your taxi app marketing activities.
Steps to Follow While Planning a Budget for Taxi App Marketing Activities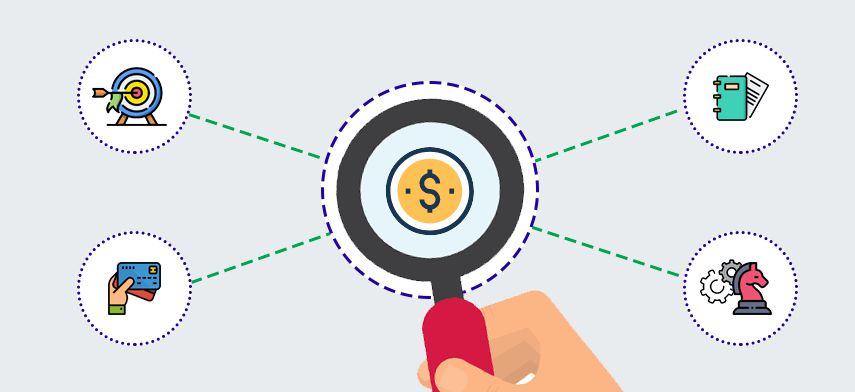 Researching the success stories of your competitors and checking references and insights from the companies in your niche will help you get a realistic benchmark.
Depending on your plan to launch a taxi app, estimate the essential marketing investments. Many variables, such as the specifics of your market, the number of competitors on it etc., are to be considered while making a financial plan.
Similarly, the return on the marketing investment depends on various factors. A realistic budget plan can only emerge when you put together all the essential data such as the monetization model and its reasonableness, how much is it planned to earn from one user etc.
Above all, you must keep in mind that there can be a certain number of fluctuations in the budget. Thus you should always be flexible enough while taking budget decisions for your app marketing activities at the pre-launch stage.
Wrapping Up!
It's not an easy task to market your app and increase its user base before launching. You need to take into account a number of factors, starting from the competition, the required paperwork and going all the way to app interface, payment systems, and car quality.
Author's Bio

Nitin Lahoti is the domain expert of Logistics and Transportation. He has 12+ years of experience in Design, Business Development and Startups. His expertise is in Product Ideation, UX/UI design, Startup consulting and mentoring. He prefers business readings and loves traveling.